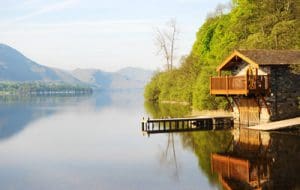 Are you thrilled with your new boat, but wondering what the best way to store it will be?  Depending on the type of boat you've purchased, there are a few different options that will be viable for your situation.
When choosing how to store your new boat, there are three options that are the most common.  The first option is that of storing the boat on your property, either parked outside of your home in the yard, on a parking pad, or parked in your garage.  Choosing to park the boat in the garage lends greater security than parking outside does, but it takes up a lot of space.  Another option is to store your boat at a dock, with a cover, chained to the dock in order to deter theft.   The third option is to check out current design options for boat houses and then come to us to build you your dream boat house.
If you're wondering what the benefits of boat houses are, the answer is that there are actually quite a few.  For one thing, you no longer have to worry about hauling your boat from one location to another every time you want to go out on the lake.  Another benefit of boat houses is that they allow your boat to stay on the water without you having to worry about whether your boat cover is securely attached.  Boat houses are also more secure than attaching your boat trailer to a tree with a chain would be, since you can store your boat inside and then lock the door, functioning the same way that a garage does for sheltering your car.
Does that thought of choosing new boat houses fill you with a sense of excitement?  If so, let us build your dream boat house today.  At Renegar Construction, we have vast experience in building boat houses of the highest quality.  We can plan, design and successfully build the perfect boat house for your needs.