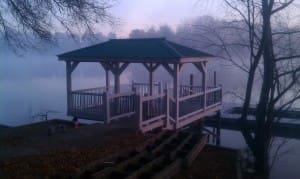 Let's face it.  When you want to relax on the lake, or go out on your boat, you don't want to regret your choice of dock builders.  Let's look at the most important things to watch for in a good dock builder that will give you what you want:
Design: Whether you have something specific in mind, or you want to play the designer role with what the builder knows is possible on your property, having a builder that will work with you is key.  If you are very selective and have new ideas in the middle of construction, they will likely charge extra for any changes.  However, if the builder can give an artist rendition or computer rendering and lock the design in up front, it may give you peace of mind.
Experience: Although a dock is very similar to a deck off your house, deck builders will likely not be suitable for dock building.  You will want to make sure that the dock builders know the ins and outs of pile driving into submerged sediment and making sure the dock will last the test of weather and typical use over the years.
Professionalism/previous customer reviews: When comparing dock builders, professionalism is one of the most important factors to consider. One thing that may help to determine this is reading customer reviews. You can typically find many reviews online, and we would suggest finding customers to talk to in person to ask about their experience.  Since docks are usually a bit of an investment, you will likely find customers with strong opinions about the builder for good or bad.
Looking for dock builders in Lake Norman NC? Contact us at Renegar Construction. Our 15 years of experience combined with our passion for delivering quality service makes us the perfect company to handle your next project!