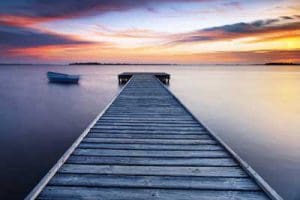 Regular maintenance and repairs keeps your docks & dock systems in top shape and preserves your investment for years to come. Here are three maintenance tips to get you started:
Take Pictures- Take a few pictures of your dock 1-2 times a year to help keep track of subtle changes that you might not notice otherwise. If damage occurs, past pictures can help you pinpoint the timeframe in which the damage occurred and provide evidence for insurance claims.
Check Fasteners- Look at all nails, screws, bolts, ladders and stairs along docks and dock systems. You want to make sure they are all secure and still doing their job. Replace or tighten loose ones, if needed
Keep it Clean- Keep your docks & dock systems clean and free of debris, clutter, and other items. It's also a good idea to occasionally sand and power wash your dock. However, it's easy to overdo it, so it's a good idea to consult with a pro or even hire one to do the job for you.
If you don't want to or don't have time to do the maintenance on your docks & dock systems yourself, you can always call us at Renegar Construction to take care of the job for you! We have been in business over 15 years and have the skills and expertise needed to properly maintain your dock. We can also help with any repairs, big or small, that are needed and even replace or upgrade your docks & dock systems. Give us a call for more information or a free estimate!