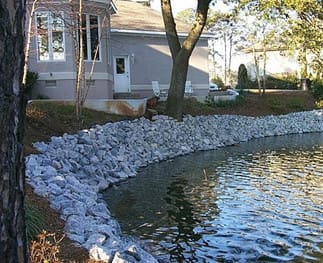 There's nothing especially beautiful or lovely about a pile of concrete or rocks. But, if you step back and visualize these ordinary materials being strategically placed to support lakebeds, shore up river banks, or displace energy from overflowing creeks, you may be able to appreciate the beauty that lies within.
These materials have the ability to be crafted into systems that offer lasting, strong protection against erosion. Depending on how they are engineered, these systems can even be quite beautiful.
We're talking hard armor here – retaining walls, gabions and riprap. These are sentinels we rely on for defense against one of Mother Nature's greatest forces: moving water. Any region with erosion problems requiring rock-solid protection can benefit from any one, or a combination of, these hard-armored solutions.
Simply put, to construct a riprap wall, rocks are positioned so they interlock naturally to create a structure. To a lay person, it might just look like a pile of stones that have been dumped randomly, but when built properly, riprap barriers are actually carefully engineered systems.
Riprap works excellently to protect stream banks, rivers and coastlines from erosion caused by ice and water. Riprap construction can be used to shore up pilings, bridge abutments and other structures against overflow and damage, particularly in flood-prone channels, rivers, lakes and streams.
From dock systems and seawalls to riprap, floating docks and dredging services, we can help with any project in the Lake Norman and Lake Hickory areas of NC. Contact us at Renegar Construction today for more information.