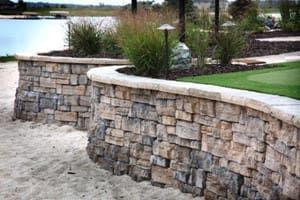 If you've ever seen a sort of wall of brick or stone that seems to be holding in a property, it was likely a retaining wall. These walls are often installed along a steep hill or along waterfront properties and can be made of brick, stone, concrete, blocks, or even glass.
Here is some useful information to know about retaining walls.
Understand their purpose: The first thing to know about retaining walls is their purpose. While they can be used simply to add aesthetic value to a home, they are more often installed to prevent erosion of your property or protect it from the waterfront. They may also be used to control drainage on your property or level out sloped land and create more stability. Some people might also use retaining walls to create boundaries or barriers between neighbors.
Understand the materials used: If you are planning on adding a retaining wall to your property, it's important to understand the materials you have to choose from. While it may be aesthetically pleasing to choose a beautiful glass option, this is not necessarily the sturdiest option, nor is it the best choice for the wildlife surrounding your property. Common materials include concrete blocks, brick, stone, wood, reinforced earth blocks, or modern glass. Your builder will be able to tell you which material will be best for your property and needs.
Consider its stability: Another important part to know about retaining walls is that their stability can easily be affected by the things you put around it. For example, you will want to avoid planting any trees or shrubbery too close to the wall because their roots could easily impact the stability and interfere with its ability to prevent erosion on your property.
You can give us a call if you would like to learn more.