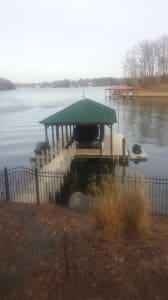 So you're thinking about having a boathouse built on your waterfront property. Why should you? From our experience with our many customers, we've found that boathouses actually have a lot to offer. We're going to share four benefits with you that boathouses can provide. This should help you with your decision.
Here's what our customers love about their boathouses:
Boathouses offer protection from the weather. The roof shelters your boat from rain and sun, preventing aging on the upholstery or paint and helping to keep it looking new for longer.
Many boathouses have a boat lift to keep your boat stored out of the water. This helps extend the life of your boat by preventing water damage to the motor or to the paint on the exterior.
Added security comes from having a boathouse to keep your watercraft in. If your boat is secure on a lift, it will be harder for someone to steal or vandalize.
Having a boathouse on your property gives you convenient access to your boat and the water, allowing you to more fully enjoy your waterfront property.
What are you waiting for? Give your boat the home it deserves—call us to design your boathouse today.