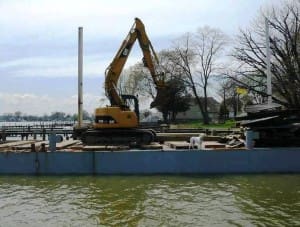 Owning a waterfront property can be a very enjoyable purchase. Waterfront homes allow for easy access to recreational watercrafts, fishing, relaxing in the sand, and many other activities. However, like other properties, you may decide that your waterfront property could benefit from some construction projects to improve the usefulness and appearance of the space. If you decide to undertake one of many possible marine dredging projects, it may be helpful to know what you can expect from this kind of work.
First, recognize that marine dredging projects can be just as disruptive to your life as a kitchen remodel or building an addition on a home. Dredging involves the removal of sediments, dirt, sand or other debris from the bottom of a body of water. Often, dredging projects will involve the use of specialized equipment and tools not owned by your everyday handyman. Because you're dealing with large equipment and tools, make sure you have all the proper permits in place to ensure that the surrounding environment is not damaged.
Second, dredging projects are usually quite extensive, so make sure you are working with an experienced contractor you can trust. Don't be afraid to ask questions about levels of experience, the equipment that will be used, and timeframes. It's always a good idea to have a very clear idea of what will occur, who will be involved, and the time frame of your dredging projects.
Lastly, go with your instincts over a persuasive sales campaign. If a contractor claims he is detail-oriented but often misses phone calls or sidesteps your questions, you may want to give your business to someone else. Marine dredging projects can be extensive, so make sure you're working with someone who will make the experience feel like a walk on the beach.
For dredging projects in Lake Norman NC, contact us at Renegar Construction. Our 15 years of experience combined with our passion for delivering quality service makes us the perfect company to handle your next project!