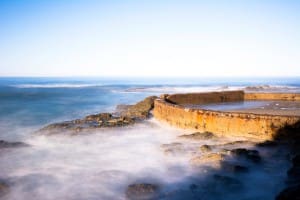 If you live near Lake Norman, NC, you are lucky to be able to enjoy the stunning views of the nearby lake. While the water can be beautiful, it can also pose threats to people who are building homes and businesses near large bodies of water. Seawalls are built and designed to protect structures from the effects of erosion and flooding. Our professional dock builders can build highly efficient and functional seawalls to protect you and your property.
The manner in which a seawall is constructed will depend on where it's being built and the materials to be used. Because there is no set way to build an effective seawall, our dock builders will discuss options with you to determine your needs, and recommend the best type for the area that's to be protected. Since a seawall is continually exposed to water, it may at some point need to be repaired or replaced. To save you from the costs involved with repairing or constructing a new one, our expert dock builders at Renegar Construction will make sure that your seawall is built correctly from the get-go.
At Renegar Construction, we are well-known for the high-quality shorelines and seawalls that we build, and also for our dedication to customer satisfaction. So if you're looking for an affordable, yet reliable solution to protect your North or South Carolina home from erosion or water, having us build a seawall will certainly be beneficial. We're always upfront with our costs, and you'll never be asked to pay hidden fees. Contact us today for more information.