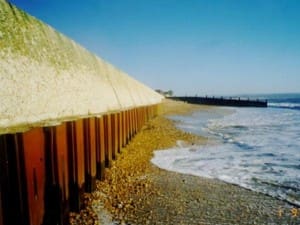 Seawalls are protective barriers that separate the destructive force of the ocean from structures on land. Associated damage done by the sea, such as erosion, is a natural process. Seawalls are constructed to interrupt it, but this interruption also offers benefits to humans.
One of the main advantages of seawalls is their ability to protect human settlements from the plethora of ways that oceans gradually erode coastal lands on which structures are built. Continual pounding waves and tides eventually break down coastal land. As part of the process, sand is formed as a result of stones rubbing together, breaking into smaller and smaller pieces.
Beachfront properties are highly valued, and one way to protect them from unpredictable erosion is the construction of seawalls. But oceans aren't the only bodies of water that humans and their structures must be protected from. For example, lakes also cause erosion, although in different ways to oceans.
In fact, lakes are more prone to freezing than oceans. When water freezes in rock cracks, it can erode banks and split rocks. Similarly, big chunks of ice scuffing against banks cause erosion. Fortunately, the construction of seawalls on lakes can stall the slow march of Mother Nature.
Some seawalls are built to protect marinas from the lethal force of the ocean. Natural formations of land that offer some protection to marinas can be made more effective by adding cement walls or large rocks. On a calm day, boats aren't damaged by waves and tides, but high winds and storms can cause serious damage to a boat that's tied to a dock. A seawall helps to protect it.
For quality seawalls in Lake Norman NC, contact us at Renegar Construction. Our 15 years of experience combined with our passion for delivering quality service makes us the perfect company to handle your next project!