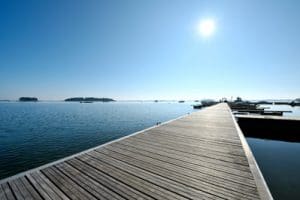 When you love to go boating, you know that there are all different types of challenges intertwined with the exciting and fun times.  For example, there is nothing that can beat the wind in your face and the sun on your shoulders.  However, getting to the point of being able to enjoy the elements comes at the cost of getting in and out of your boat—which can end up being a challenge in and of itself. For example, if you try to get into your boat without a dock, you may end up taking a swim before you take a boat ride.  This scenario isn't necessarily bad on hot days, but on days when the weather isn't quite as cooperative, it can make for some chilly time on the water.  If you want to avoid the challenge, you may want to consider getting a new boat dock.
There are a few circumstances that would warrant a new boat dock as your best solution.  For example, if you don't have a dock, you may want a new boat dock.  Another situation where new boat docks would be beneficial is if you have old or worn-out boat docks, which are unable to shed water quickly and in fact tend to sink every time you step on them.  If you find that any of these things are happening to you, you need to get some new boat docks.
What exactly are you looking for in a new boat dock?  That depends on what your boat dock needs are.  You may want to consider things like the ability of the dock to adjust to the water levels, the existence of safety railings, and how gentle it will be to your boat.
When you want high-quality new boat docks installed by experienced technicians, contact us at Renegar Construction.  We have the knowledge, expertise and experience necessary to help you on your way to enjoying your boating excursions once more.