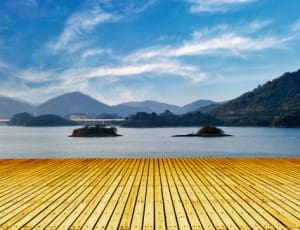 A wooden dock provides an easily accessible and safe place to park your boat and enjoy jet-skiing, fishing, swimming and a host of other water-related activities. However, many state environmental protection programs do not permit the use of wood that's been stained, treated or painted with materials than can affect water quality. The upper surfaces of docks & dock systems are actually best left untreated, although there are sealants available today with low VOCs (volatile organic compounds) made especially for wood that's constantly exposed to water.
When cleaning wooden docks & dock systems, always use an environmentally safe cleaning solution, such as the following:
To clean stains effectively, mix 3 parts olive oil to 1 part white vinegar.
To clean oil stains, make a paste of water and baking soda. Scrub and rinse off when dry.
To clean steel and aluminum attachments (ladders, etc.) on your dock, use baking soda.
Avoid pressure washing wood because it can lift splinters off, as well as metal flakes from fasteners and bolts, flushing them into the water.
At the start and end of every season, docks & dock systems should be inspected to ensure structural stability. Splintered, dried-out, cracked or rotted wood slats on the top of docks should be replaced as soon as possible. Check all nuts, nails, bolts and other fasteners for corrosion and rust. If they are causing the dock frame to loosen, replace them.
From dredging services and dock systems to retaining walls, floating docks and sea walls, our team at Renegar Construction can help with any project in the Lake Norman area of North Carolina. Contact us today for more information.