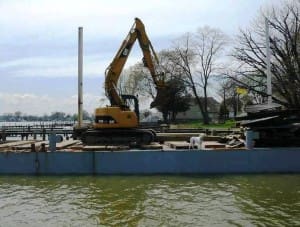 At Renegar Construction, we can perform all lake, canal and marina projects, regardless of size. We have the experience and equipment to dredge navigable waterways and lake sediment buildups. We can be at your location in no time at all because our equipment is fully transportable.
Don't put yourself at risk of getting a surprise when a non-marine contractor secures a permit for your dredging that's not legal. We can complete your Lake Norman or Lake Hickory project from permitting to disposal. Our engineers have done large underwater earth moving projects to single slip dredging.
Lake dredging can be performed either 'dry' or 'wet'. Dry dredging involves either completely or partially draining the lake to expose the sediment to drying conditions. Traditional earthmoving equipment like scrapers, draglines, backhoes and bulldozers are used to remove the sediment. The equipment moves down to the dewatered bed or works from the shore. The sediment can be stockpiled on the shore and then taken away in dump trucks.
A wet dredging procedure doesn't involve draining the lake. Instead, the equipment is incorporated onto a floating hull. The sediment is dislodged with a steel-bladed cutter, and the muck is sucked up by a centrifugal pump. The slurry is then piped to a disposable container or basin where the water is drained away and the sediment left to dry.
From dock systems and seawalls to rip rap, floating docks, retaining walls and dredging services, we can help with any project in the Lake Norman and Lake Hickory areas of NC. Give us a call at Renegar Construction today for more information. For us, there's no such thing as a marine construction job that's too big or too small!