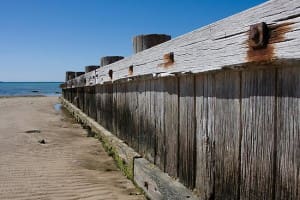 A retaining wall is simply a manufactured wall that is designed to hold back earth or water. Often a retaining wall is used when there are two areas of elevation that result in an undesirable slope of the land. When it comes to the beach, there are many instances in which you may decide to build retaining walls:
For an obvious division of homeowner property and beach. Waterfront cabins are becoming more like second homes. If a waterfront home has a significant amount of property, the owner may decide to plant grass or gardens. This calls for a separation of the land and the beach. Retaining walls can give the separation while ensuring that the grass will not take over the beach.
Prevents erosion. Retaining walls work well by preventing erosion from water. The tough outer exterior of the building materials is a great match for the constant beating of the waves. Retaining walls will allow you to have peace of mind that your property will be protected from erosion.
Adds visual interest. Retaining walls can be built to mimic or stand apart from the surrounding landscape. This means they can serve a useful, as well as aesthetic purpose when it comes to your waterfront property.
Retaining walls need to be built with very exact specifications in order to be strong enough to hold back the earth while withstanding the abuse of the water. Built incorrectly, your retaining walls could crumble out from underneath your property. Because of these reasons, it is always a good idea to consult with a professional about building retaining walls.
For retaining walls in Lake Norman NC, contact us at Renegar Construction. Our 15 years of experience combined with our passion for delivering quality service makes us the perfect company to handle your next project!