For boat houses and dock systems, there are some great construction ideas we can offer. These designs can be customized or made more elaborate according to your personal tastes.
If you don't have multiple boats or personal watercraft such as jet skis, there's a single slip dock. We can build single dock systems with a wide side boat dock or a party platform out to one side to accommodate you if you like sitting by the lake, enjoying the atmosphere and weather. If you prefer to keep your investment protected from the weather, or if you have multiple boats, we offer a double slip dock. We can also build a double or single slip dock with a custom area for a watercraft lift.
When it comes to boat house roof designs, the two most popular are hips and gables. Between the two, a hip roof provides better protection from the weather. Also, many people consider it a more attractive option that a cheaper gable roof.
Hip Roof Boat House with Upper Deck: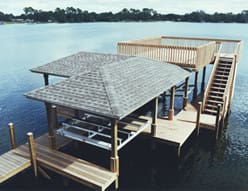 Gable Roof Boat House: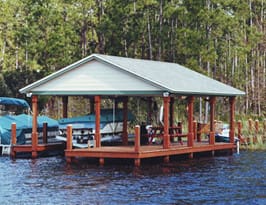 If you need extra recreational space, especially if a bigger water level footprint isn't possible, sun decks or upper decks offer a perfect solution. An upper deck is a fantastic place to hang out with friends and family and enjoy cookouts or other recreational activities like games and slides.
From dock systems and seawalls to rip rap, floating docks, retaining walls and dredging services, we can help with any project in the Lake Norman and Lake Hickory areas of NC. Give us a call at Renegar Construction today for more information. For us, there's no such thing as a marine construction job that's too big or too small!