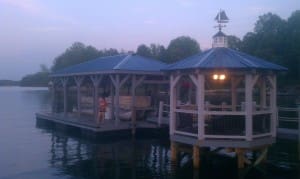 Ever wish you had a beautiful dock for your lake front property?  The sky is the limit when it comes to customizing dock systems today; you can add features to truly make your very own dream dock system.
When designing your dock, you want to make sure that it is aesthetically pleasing while still keeping all of the functionality you need.  Little details can go a long way to add style and pizazz to an otherwise plain or boring dock system.
Dock systems can be customized in many ways.  For your dream dock system, consider adding:
A deck with a roof to provide a covered area for relaxing (or entertaining) in any type of weather.
Built-in entertainment features on a deck at the end of your dock system.  Think about including bench seating around the perimeter of the deck or installing a sound system for music.  You can even build in storage areas for life jackets or other equipment that you want close to the water but out of sight.
Decorative details such as unique bars on railings or topping your roof with a spindle, weathervane, or miniature lighthouse.
Lighting on your deck or pathway lighting along the dock.
We can be your partner in figuring out how to make your dream dock system come to life.
From dock systems and seawalls to rip rap, floating docks, retaining walls and dredging services, we can help with any project in the Lake Norman and Lake Hickory areas of NC. Give us a call at Renegar Construction today for more information.